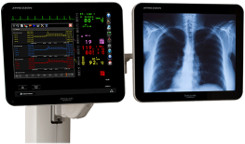 Xprezzon Modular Patient Monitor
The Modular patient monitor – Xprezzon delivers innovative technology and design, to shape the new age of care for clinicians and patients alike. Caregivers will greatly appreciate the complete access to critical information anywhere/ anytime they have mobile access.
Stylish Display - 19 high-resolution screen with Ambient Light sensor
Expansive Coverage - Optional dual display allows a dedicated full screen view of physiologic information, plus a secondary screen for charting and other clinical applications.
Real-Time Monitoring - 96 hours of User Configurable Trending; up to 8 waveforms
Versatility- Ergonomic and versatile mounting solutions enhance the overall appearance of the care environment and infection control.
Intuitive - intuitively dims the display in low ambient light for patients rest.
Connectivity clinicians stay connected with patients monitoring with any mobile access.