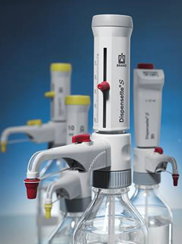 Dispensette S: Bottle-top Dispenser
Whether you are dispensing solvents, acids, alkalis or saline solutions – the Dispensette® S bottle-top dispenser makes it easy, safe and efficient.
With both the Dispensette® S and Dispensette® S Organic, you will always have the right dispenser at hand for a wide range of media. For efficient volume adjustment, you can choose between digital and analog adjustment, or fixed volume. Do you dispense long series, sterile applications or moisture-sensitive media? With numerous accessory options, the Dispensette® S also offers efficient solutions for special applications.
Minimum operating forces, maximum comfort
Trusted in challenging continuous operation and with aggressive media
Wide range of applications for organic solvents, acids, alkalis and saline solutions
Autoclavable at 121C
Easy to calibrate and adjust in order to comply with ISO 9001 and GLP guidelines
All valves work without any additional sealing rings. Thank makes cleaning and preparation for autoclaving easier
The 45mm standard thread plus the included adapters fit common lab bottles
The valve block can be rotated 360 so that the bottle label always faces the user for safety
With easy Calibration technique, you can calibrate quickly and easily in the laboratory in just a few steps