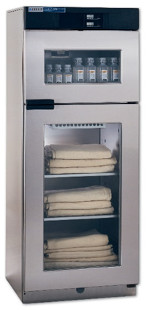 STERIS Amsco Warming Cabinets
Warm, Secure & Organized.
STERIS Amsco warming cabinets are designed to store and warm sterile intravenous (IV) and surgical irrigation solutions, linens, and blankets to programmed temperature settings for patient applications. They provide precise and convenient control, are built as tough as steel and provide users with inventory at a glance. The range of warming cabinets have user-centric designed features which are purpose built to provide reliable solutions. With a myriad of choices in size and configuration, STERIS provides users with the ability to equip their space with the optimal storage solutions for current and future needs.
Store and warm sterile intravenous (IV) and surgical irrigation fluids, linens, and blankets
AORN Recommended Practices for a Safe Environment of Care
Warming IV solutions (RP VIII.b.3)
Instant LED readout
Individual compartment control
Optional features: mobile bases, electronic door locks, electronic data reporting